Masonry Heater Association, Annual Meeting
Masonry Heater Camp at Wildacres!
By Justin Bailey
The Masonry Heater Association of North America (MHA) had its annual meeting at a retreat center called Wildacres in the Blue Ridge Mountains of North Carolina from April 11-17th. The word 'meeting' doesn't adequately describe the week-long festival. I've started to think of the experience as "Masonry Heater Camp."
Accommodations are simple, but comfortable. Everyone shares a simple room with a roommate, and there are enough beds for about 120 attendees.
I first heard about MHA and Masonry Heater Camp when I took a CSIA Certified Chimney Sweep Review course from Rich Rua 2014, in Columbus, OH. Rua mentioned that he'd been to the MHA annual meeting as a part of his overall education in the chimney trade. I asked him about it later, and I put it on my bucket list.
But I never had the opportunity to get seriously involved with masonry heaters until last year, when I got a call to look at a gigantic masonry heater, an Austrian "Tile Oven," built from scratch in the 1990's. The heater sits in a ski lodge called the Bavarian, at Taos Ski Valley, 10,200 ft altitude. In 2013, a billionaire bought the ski resort, and the masonry heater came with it.
I looked at the heater, asked lots of questions, scanned the flue, and it became clear that I needed more information and knowledge. 8 or 9 years ago, I learned, they burnt some green firewood in the heater, and it hadn't worked ever since. Nobody could figure out how to fix it. They'd hired a local mason, who just made it worse.
I knew where the firebox was, and where the chimney was, but what lay between them was a mystery. There were no readily accessible soot doors, like Tulikivi heaters have. The heater was massive. I needed a plan. I needed information.
Thanks to the NCSG and the course I'd taken with Mr. Rua, I knew there was somebody out there I could call for help. A google search led me to the MHA, and I got executive director Dick Smith on the phone. He suggested I join the organization. The cost of a full voting membership was $300.00 per year. That's how much I charged the billionaire for the initial service call/inspection, and I became a full voting member of the MHA. It turned out to be a pretty good investment.
After making some calls and talking with a couple of masonry heater builders from the association, I felt like I could at least write an estimate to fix the thing. I stated clearly in the proposal that there was no way for me to know how long it would take me to fix the heater, or how much it would end up costing. I found space in the estimate to mention that there was exactly one member of the MHA in New Mexico.
I got the gig, and soon enough, I was on the phone with one of the founding fathers of the MHA, Jerry Frisch. Jerry spent over an hour on the phone with me, that first time we talked. He asked me about the heater, and had me take photos of it and email them to him. He said that it sounded like there was a blockage in the flowpath. He told me how to find the masonry cleanouts, and how make the penetrations through the masonry material to access the passageways. When I offered him money for his consulting help, he refused.
"I just want to pass down the knowledge," he said. "I'm only going to be doing this for another 20 years. My wife and I talked about it, and we agreed that we'll do this for 20 more years and then we'll talk about it again."
"That's very generous of you," I said.
"I recently got remarried," he said. "My first wife passed away. I just turned 80."
With phone help from Jerry, I was able to get the heater working, test it out, clean the glaze from the flowpath and chimney, and install cleanout doors. I was fascinated and excited with the project. I felt grateful to have the job and the opportunity, and to have the help of the guys from the MHA. The first time we fired up the heater, with glass taped over all the cleanout openings so we could watch the smoke pass through the passageways in the heater, the manager of the Bavarian was happy to see how it all worked.
When I called Jerry Frisch to thank him for his help, he invited me to the World of Concrete (WOC) Trade Expo in Las Vegas, NV. "We're going to build a masonry heater in the parking lot," he said.
"Count me in!" I said.
Las Vegas and WOC were a blast, and got to see a masonry heater built by an expert from the ground up. I also helped build a wood fired pizza oven.
Fast forward a few months, I found myself at Wildacres for a week of Masonry Heater Camp. There were masons from the US, France, Russia, Canada, Germany, Finland, and Japan, all of them building heaters on site, answering any question you could think of. Of the 120 attendees, 7 of the masons own and/or operate their own testing labs. The CEO of Tulikivi International had flown in from Finland. Founders of other European startups were there. I'd signed up for the HMED course (Heater Mason Education & Development Program) which was developed by Jerry and Jim Frisch. Jim, Jerry's younger brother, taught the course.
The classes and seminars included a bricklaying workshop, Chris Prior's class on masonry arches, a course on emissions testing, and several history courses. I wasn't able to attend many of them, because the HMED took up the majority of my time. Most days, the last class or seminar would let out around 10:00 p.m., and the festivities would already have begun.
And yes, they have an auction too, kind of like the CSIA action the NCSG convention.
By the time Friday rolled around, the newly built heaters were all fired up and running, including the large pizza oven. Pizzas started coming out of the oven in time for dinner - the best pizza I'd ever tasted in my life.
By nightfall, a group of musicians had gathered to play old standards and folk songs, seated on the warmed, L-shaped bench of a rocket mass heater with a cookstove top, where somebody was making crepes. I got to hang out with CSIA's Darcy Marlett and Ashley Elridge, who were attending. People were dancing and the beer was flowing.
The pizza party was still raging as I headed down the mountain in my rental car at 2 a.m. to catch an early morning flight out of Charlotte.
The next morning, before noon, (according to photos I saw posted on facebook,) all the brand new heaters and ovens had been disassembled and the materials put away in storage. Ashley Elridge pointed out that the masons and students could learn as much or more by taking apart the heaters as they did when they built them.
In all my years in the chimney business, I'd never enjoyed myself more than I did during the week I spent at Masonry Heater Camp at Wildacres. I'll be back next year, for sure. I hope to build my own masonry heater in my house soon, and I would like to become a certified masonry heater builder. With the HMED under my belt, I've taken the first step, but I have a lot more to learn.
If you would like to attend the Masonry Heater Camp next Spring, google the Masonry Heater Association of North America or go to mha-net.org.
By Justin Bailey
One thing we strive for at Bailey's is constant improvement.  That's why I travelled to Richmond, Indiana to receive factory training in the Heat Shield chimney repair system.
Heat Shield is a nondestructive way to repair and reline chimneys from the inside out.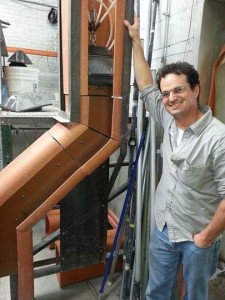 A company called Saver Systems has developed this amazing technology, and I am proud that Bailey's is the only company in New Mexico that is authorized to utilize this solution to the problem of cracked, damaged flue tiles inside chimneys.
I got to know most of the top professionals in the industry at the Heat Shield Summit, and was able to exchange lots of useful information.
After four days in Richmond, I travelled to Chicago, where I spent three days with Lindemann Chimney Co, the number 1 chimney service company in the U.S.  The first day I spent in their offices and warehouse, and the the next day I rode around with one of their chimney sweeps in Chicago.
Exchanging best practices with the best in the business is a way that I can be sure that here at Bailey's we are constantly improving.  Continued education and investments in knowledge is an important part of the mix for Bailey's.
That's one of the reasons why we are New Mexico's premier chimney service company.