Pat Rael, on the left in the photo below, started at Bailey's in 2016 as an office assistant. He is now our highest rated, most productive field technician. He recently earned a Bachelor's degree, graduating summa cum laude. He completed his studies while raising three kids, coaching some of them in Little League all stars. He is also a founder at Prodigy Church in Taos, where he serves as Pastor. He and his lovely wife Menesha (she took this photo) have become expert nutritionists and health experts in recent years. Before Covid, the whole family enjoyed regular jujitsu sessions that they would take part in all together as a family unit.
To Pat's right is Jared Padilla, one of our newer hires. Jared does a great job as a helper and we are glad to have him on our team.
Pat and Jared are pictured in front of one of the three 4x4 pickups in our fleet that enable us to get to all of our jobs regardless of weather conditions.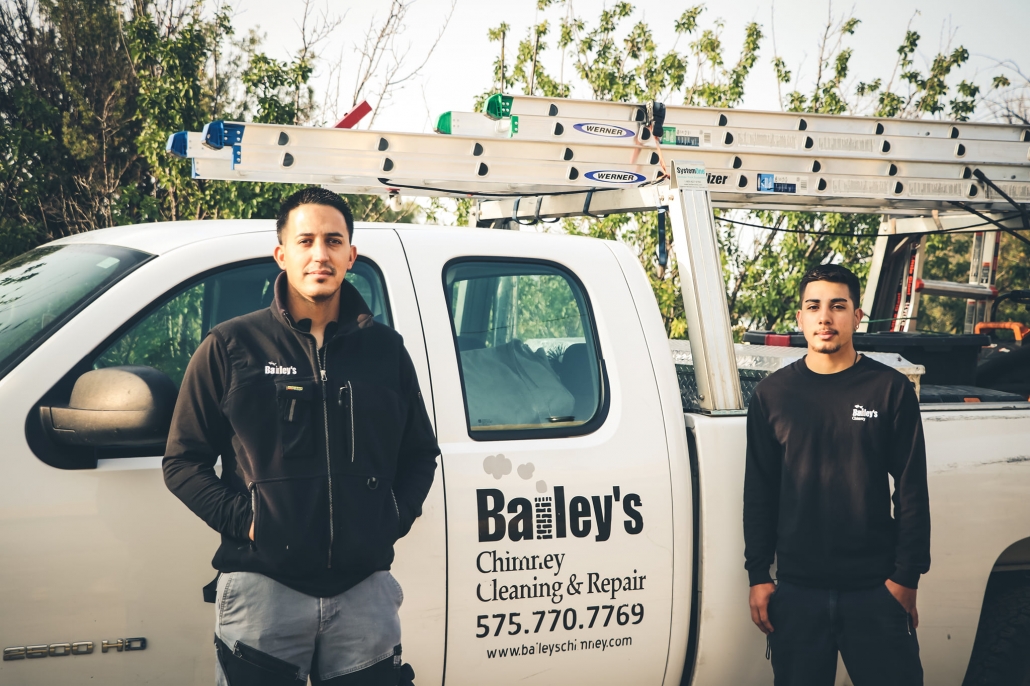 [av_section min_height='' min_height_px='500px' padding='small' shadow='no-border-styling' bottom_border='no-border-styling' id='' color='main_color' custom_bg='#e0e0e0' src='' attachment='' attachment_size='' attach='scroll' position='top left' repeat='no-repeat' video='' video_ratio='16:9' overlay_opacity='0.5' overlay_color='' overlay_pattern='' overlay_custom_pattern='' av_uid='av-7hkkl']
[av_two_third first min_height='' vertical_alignment='' space='' custom_margin='' margin='0px' padding='0px' border='' border_color='' radius='0px' background_color='' src='' background_position='top left' background_repeat='no-repeat' animation='' mobile_display='' av_uid='av-6mpdt']
[av_textblock size='' font_color='' color='' av-medium-font-size='' av-small-font-size='' av-mini-font-size='' av_uid='av-6cf0h' id='' custom_class='' admin_preview_bg='']
We spent a week with the Masonry Heater Association in NC, Thanks Jason Turpin for putting this video together! Fireplaces Learning a spectacular form of creativity that keeps you warm!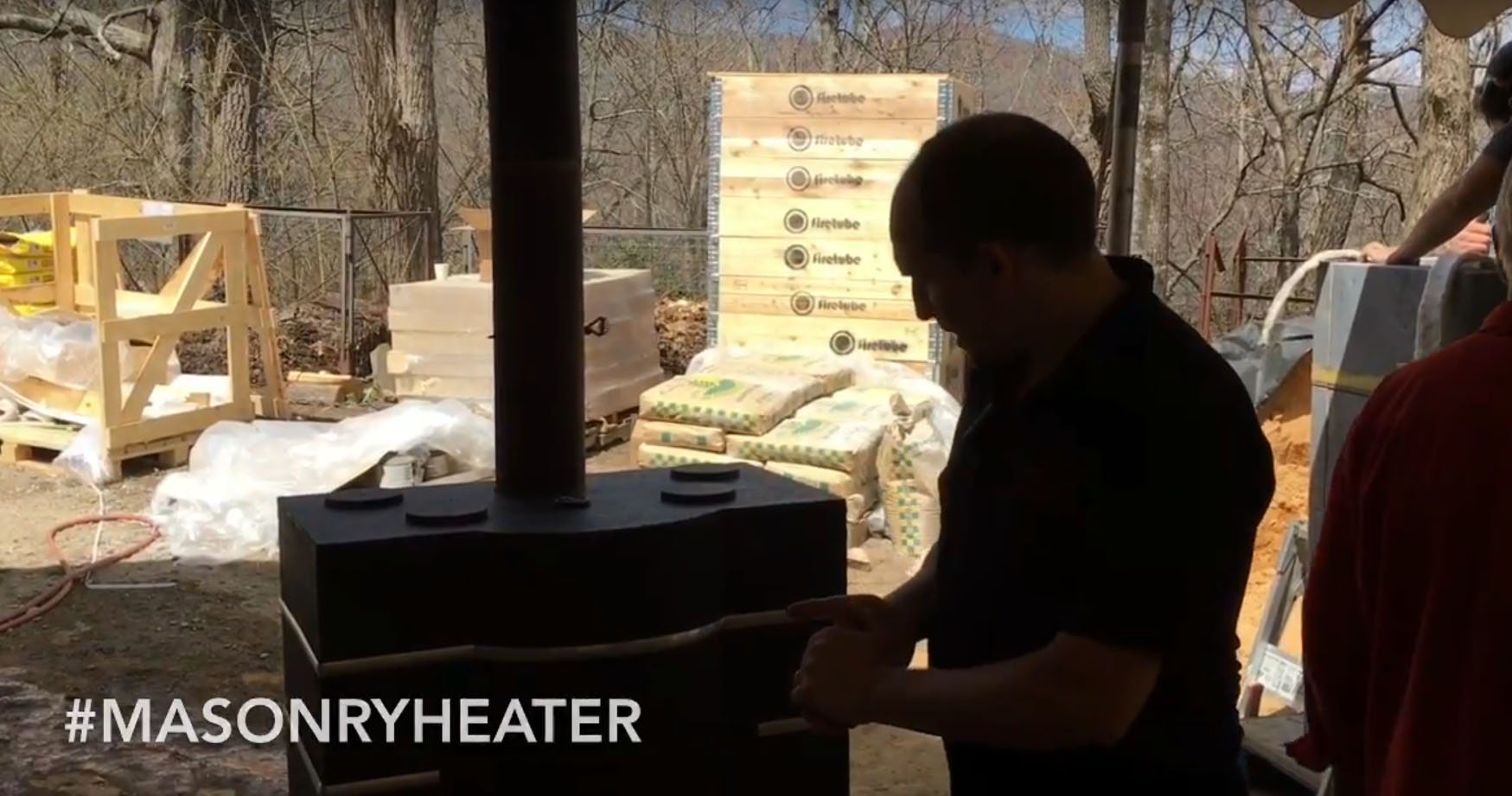 [/av_textblock]
[/av_two_third][av_one_third min_height='' vertical_alignment='' space='' custom_margin='' margin='0px' padding='0px' border='' border_color='' radius='0px' background_color='' src='' background_position='top left' background_repeat='no-repeat' animation='' mobile_display='' av_uid='av-6mpdt']
[av_textblock size='' font_color='' color='' av-medium-font-size='' av-small-font-size='' av-mini-font-size='' av_uid='av-kb1e16sa' id='' custom_class='' admin_preview_bg='']
Santa Fe 505-988-2771 / Taos 575-770-7769
Mailing Address
1470 Paseo Del Pueblo Norte (Unit #2)
El Prado, NM 87529
baileyschimney@gmail.com
If we don't pick up right away, send a text for the quickest response. We do our best to answer the phone when it rings, but if we can't pick up we check our voicemail at least once a day.
Los Alamos customers, please call the Santa Fe office.
[/av_textblock]
[av_sidebar widget_area='Sidebar Blog' av_uid='av-3ap078']
[/av_one_third][/av_section]
Justin Bailey recently built this masonry heater in Tesuque, NM. Bailey is one of the only contractors in The Southwest that offers design/build services for this type of fireplace, sometimes called a masonry stove.
Bailey, owner of Baileys Chimney, LLC, is New Mexico's only member of the Masonry Heater Association, an international organization. He attends the MHA annual meeting every year in Wildacres, A retreat center on top of a mountain near the Blue Ridge Parkway. The annual meeting is a festive, educational event that lasts for one week. 120 Masonry Heater builders, designers and enthusiasts from a dozen countries gather to build heaters, share knowledge and expertise, and test new Heater designs.
Masonry heaters channel the flue gasses through passageways in the core of the heater so the mass absorbs the heat. One fire a day In this heater, and the house will stay warm 24/7. When the flue gasses leave the fire chamber they are over 1500 degrees, and when they leave the heater they are only 300 degrees F. All that heat remains trapped in the heater, which provides radiant heat to the room over time.
The radiation waves from a masonry surface are longer than radiation waves from a metal surface. The long radiation waves heat up all the mass in the room, rather than heating the air.
The warmth from a masonry heater tends to put people into a meditative, peaceful state. People say it "warms your bones."
Masonry heaters are the most efficient way to heat with wood, if you measure the percentage of the energy in the fuel that gets converted to warmth in the room.
If you are interested in a custom masonry heater for your home, give Bailey a call.
As the winter season heads our way we are ready to get the fires burning again. Here are some great steps to take and things to remember:
Starting That First Fire Of The Season? Is Smoke In Your Face?
Baileys Chimney, LLC. is a certified Chimney Sweep company. Call us today Santa Fe 505-988-2771 / Taos 575-770-7769


Masonry Heater Association, Annual Meeting
Masonry Heater Camp at Wildacres!
By Justin Bailey
The Masonry Heater Association of North America (MHA) had its annual meeting at a retreat center called Wildacres in the Blue Ridge Mountains of North Carolina from April 11-17th. The word 'meeting' doesn't adequately describe the week-long festival. I've started to think of the experience as "Masonry Heater Camp."
Accommodations are simple, but comfortable. Everyone shares a simple room with a roommate, and there are enough beds for about 120 attendees.
I first heard about MHA and Masonry Heater Camp when I took a CSIA Certified Chimney Sweep Review course from Rich Rua 2014, in Columbus, OH. Rua mentioned that he'd been to the MHA annual meeting as a part of his overall education in the chimney trade. I asked him about it later, and I put it on my bucket list.
But I never had the opportunity to get seriously involved with masonry heaters until last year, when I got a call to look at a gigantic masonry heater, an Austrian "Tile Oven," built from scratch in the 1990's. The heater sits in a ski lodge called the Bavarian, at Taos Ski Valley, 10,200 ft altitude. In 2013, a billionaire bought the ski resort, and the masonry heater came with it.
I looked at the heater, asked lots of questions, scanned the flue, and it became clear that I needed more information and knowledge. 8 or 9 years ago, I learned, they burnt some green firewood in the heater, and it hadn't worked ever since. Nobody could figure out how to fix it. They'd hired a local mason, who just made it worse.
I knew where the firebox was, and where the chimney was, but what lay between them was a mystery. There were no readily accessible soot doors, like Tulikivi heaters have. The heater was massive. I needed a plan. I needed information.
Thanks to the NCSG and the course I'd taken with Mr. Rua, I knew there was somebody out there I could call for help. A google search led me to the MHA, and I got executive director Dick Smith on the phone. He suggested I join the organization. The cost of a full voting membership was $300.00 per year. That's how much I charged the billionaire for the initial service call/inspection, and I became a full voting member of the MHA. It turned out to be a pretty good investment.
After making some calls and talking with a couple of masonry heater builders from the association, I felt like I could at least write an estimate to fix the thing. I stated clearly in the proposal that there was no way for me to know how long it would take me to fix the heater, or how much it would end up costing. I found space in the estimate to mention that there was exactly one member of the MHA in New Mexico.
I got the gig, and soon enough, I was on the phone with one of the founding fathers of the MHA, Jerry Frisch. Jerry spent over an hour on the phone with me, that first time we talked. He asked me about the heater, and had me take photos of it and email them to him. He said that it sounded like there was a blockage in the flowpath. He told me how to find the masonry cleanouts, and how make the penetrations through the masonry material to access the passageways. When I offered him money for his consulting help, he refused.
"I just want to pass down the knowledge," he said. "I'm only going to be doing this for another 20 years. My wife and I talked about it, and we agreed that we'll do this for 20 more years and then we'll talk about it again."
"That's very generous of you," I said.
"I recently got remarried," he said. "My first wife passed away. I just turned 80."
With phone help from Jerry, I was able to get the heater working, test it out, clean the glaze from the flowpath and chimney, and install cleanout doors. I was fascinated and excited with the project. I felt grateful to have the job and the opportunity, and to have the help of the guys from the MHA. The first time we fired up the heater, with glass taped over all the cleanout openings so we could watch the smoke pass through the passageways in the heater, the manager of the Bavarian was happy to see how it all worked.
When I called Jerry Frisch to thank him for his help, he invited me to the World of Concrete (WOC) Trade Expo in Las Vegas, NV. "We're going to build a masonry heater in the parking lot," he said.
"Count me in!" I said.
Las Vegas and WOC were a blast, and got to see a masonry heater built by an expert from the ground up. I also helped build a wood fired pizza oven.
Fast forward a few months, I found myself at Wildacres for a week of Masonry Heater Camp. There were masons from the US, France, Russia, Canada, Germany, Finland, and Japan, all of them building heaters on site, answering any question you could think of. Of the 120 attendees, 7 of the masons own and/or operate their own testing labs. The CEO of Tulikivi International had flown in from Finland. Founders of other European startups were there. I'd signed up for the HMED course (Heater Mason Education & Development Program) which was developed by Jerry and Jim Frisch. Jim, Jerry's younger brother, taught the course.
The classes and seminars included a bricklaying workshop, Chris Prior's class on masonry arches, a course on emissions testing, and several history courses. I wasn't able to attend many of them, because the HMED took up the majority of my time. Most days, the last class or seminar would let out around 10:00 p.m., and the festivities would already have begun.
And yes, they have an auction too, kind of like the CSIA action the NCSG convention.
By the time Friday rolled around, the newly built heaters were all fired up and running, including the large pizza oven. Pizzas started coming out of the oven in time for dinner - the best pizza I'd ever tasted in my life.
By nightfall, a group of musicians had gathered to play old standards and folk songs, seated on the warmed, L-shaped bench of a rocket mass heater with a cookstove top, where somebody was making crepes. I got to hang out with CSIA's Darcy Marlett and Ashley Elridge, who were attending. People were dancing and the beer was flowing.
The pizza party was still raging as I headed down the mountain in my rental car at 2 a.m. to catch an early morning flight out of Charlotte.
The next morning, before noon, (according to photos I saw posted on facebook,) all the brand new heaters and ovens had been disassembled and the materials put away in storage. Ashley Elridge pointed out that the masons and students could learn as much or more by taking apart the heaters as they did when they built them.
In all my years in the chimney business, I'd never enjoyed myself more than I did during the week I spent at Masonry Heater Camp at Wildacres. I'll be back next year, for sure. I hope to build my own masonry heater in my house soon, and I would like to become a certified masonry heater builder. With the HMED under my belt, I've taken the first step, but I have a lot more to learn.
If you would like to attend the Masonry Heater Camp next Spring, google the Masonry Heater Association of North America or go to mha-net.org.
Then and Now
I've been a certified chimney sweep for years, and a member of the NCSG too on
and
off. I've been getting Sweeping magazine once a month, every now and then I've taken
advantage of the many discount opportunities available to guild members from various suppliers
and manufacturers. In business since 2000, I've gotten by for years; I paid the mortgage, kept
my one and two truck operation going by borrowing some money from a credit card during the
off season and working insane hours during the fall, often working in the office (which was in the
kitchen) until 11 p.m., catching up on paperwork, billing, putting orders together, replying to
emails, etc.
I never came to a convention because I thought I was smart. I thought I was so smart, I
spent years reinventing the wheel in New Mexico. I was constantly figuring it out when
it came
to technical issues in the field or administrative problems in the kitchen. I'm a problem solver!
Whenever I got invitations to the guild conventions I thought, 'Why would I want to spend a
bunch of time and money to go most of the way across the country and meet with a bunch of
chimney sweeps? I cant afford that!'
My business: was it growing? No. But the bills got paid. Was I miserable during the
busy season, working 16 hour days? Yes, but that's the life I chose. Did I have a panic attack
every August, wondering how I could survive another fall? Yes. My staff: mostly drunks and
potheads.
But things came to a head, and I came to a point in life where it became clear that big
changes were not optional, they were required. As part of my project of becoming a better
human being, I decided that I should visit my elderly grandparents, in their 90's, who live in
Toledo, OH. The NCSG was happening in Columbus that year, so it looked like I could write off
a trip to visit my grandparents. I booked my ticket, found a cheap place to stay, and signed up
for the convention.
What I found in Columbus at the NCSG convention amazed me. I learned that there are
highly successful, profitable chimney service companies all over the country. They run like real
businesses. Better yet, these companies are owned by wonderful people, willing to share their
knowledge and expertise with somebody like me. I met Mark Stoner, president of the CSIA, who
told the story of his business failures and eventual success to the entire convention.
Presentations by people like John Meredith, Jerry Eisenhour, and Russ Dimmit opened my eyes
to new possibilities. Interactions with other sweeps inspired my to improve myself and my
business.
The connections and friends I made at the NCSG 2014 convention and trade show
changed my business and my life forever. I've upgraded most of the equipment we use in the
field. My staff are now sober, responsible citizens. My full time office manager takes care of the
phones, the books, and other administrative duties so I can quit work at 6 p.m. I added another
truck, and my business grew 60 percent in 2014. I'm able to provide them with a real livelihood.
They can take care of their families.
None of those changes would have happened if I had not attended the NCSG
convention in March of 2014.
That's why, when Sweeping Editor Darcy Marlett asked me to contribute some articles
about the convention this year, I jumped at the opportunity to be of service to the organization.
As I write these words in my hotel room in Lancaster, PA, I'm very grateful to the NCSG
and all the folks who work so hard to make the convention happen. Sure, the wind chill factor is
21 below outside. But I'm nice and warm, and my business is running on its own while I am
here; the team did a relining yesterday and a chimney installation the day before that, and I
didn't have to lift a finger. My business answered the phone, made deposits, completed payroll,
and one of my sweeps is busy designing our booth for an upcoming home show in Santa Fe,
NM.
All of those good things are possible because I tried to do the right thing (visit my
grandparents) and as a result ended up attending a NCSG convention for the first time in 2014.
It was a good family visit; I helped my grandfather with chores around the house, I read books to
my grandmother (she's mostly blind now) and listened to stories from their life together.
Best of all, with my new financial and business freedom, I hope to visit my grandparents
every year for the rest of their lives, whether there is a chimney convention in Ohio or not.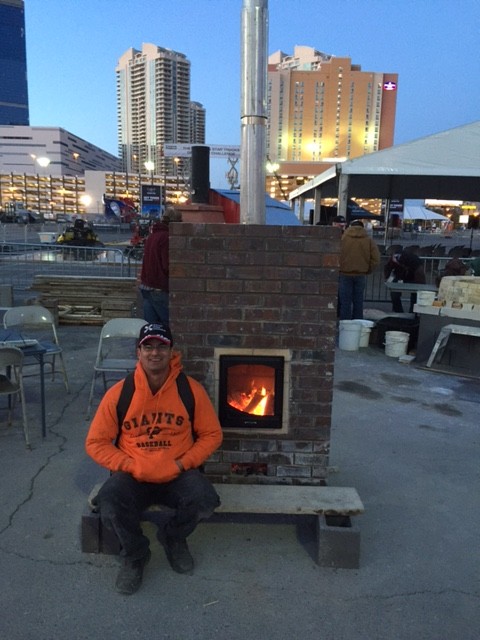 For Immediate Release:
For more information contact Justin Bailey 5757707769,
or email to
baileyschimney@gmail.com
What happens in Vegas doesn't always stay in Vegas.
Local chimney sweep and business owner Justin Bailey spent the first week of February at the World of Concrete trade show in Las Vegas, NV volunteering for the Masonry Heater Association (MHA) of North America. While there, he helped other members of the association build a wood fired oven and a masonry heater in the parking lot of the Las Vegas Convention Center.
"I went there to grow my knowledge about masonry in general and masonry heaters in particular. I'm excited to play a part in bringing what I learned about masonry heater technology to Northern New Mexico," said Bailey.
In Las Vegas, Bailey joined masons from Alaska, Washington State, Indiana, British Columbia, and Colorado. MHA Executive Director Dick Smith, from Arizona, also attended. "What struck me most about all the guys in our group was their humility," said Bailey.
"These guys are some of the best in the country at what they do, but there was no ego whatsoever. Everyone helped do the most menial tasks, like mixing mortar and carrying bricks, and the master masons were willing and eager to share their knowledge with me and whoever stopped by to visit our booth."
Bailey's interest in masonry heaters grew when he was hired to fix the famous Austrian "tile oven" at the Bavarian Lodge, in Taos Ski Valley.
"I joined the MHA to get access to materials and expertise that enabled me to solve the problems with the masonry heater at the Bavarian." Rare in the U.S., masonry heaters are common in Northern Europe. Many experts say they are the most efficient woodburning heater appliances in the world. Mark Twain, while visiting
Europe, wrote, "One firing is enough for the day; the cost is next to nothing; the heat produced
is the same all day, instead of too hot and too cold by turns…"