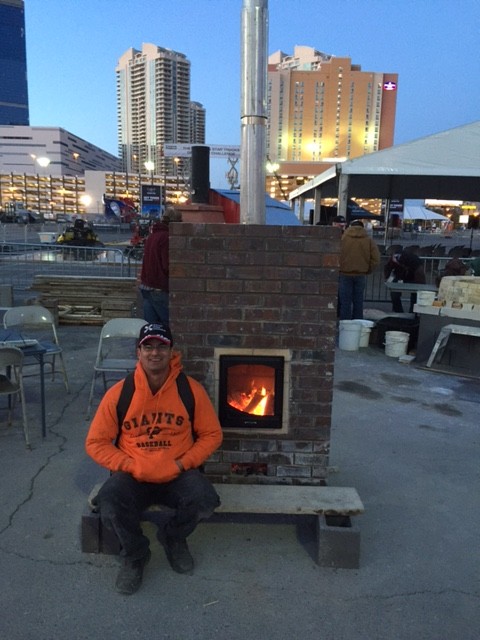 For Immediate Release:
For more information contact Justin Bailey 5757707769,
or email to
baileyschimney@gmail.com
What happens in Vegas doesn't always stay in Vegas.
Local chimney sweep and business owner Justin Bailey spent the first week of February at the World of Concrete trade show in Las Vegas, NV volunteering for the Masonry Heater Association (MHA) of North America. While there, he helped other members of the association build a wood fired oven and a masonry heater in the parking lot of the Las Vegas Convention Center.
"I went there to grow my knowledge about masonry in general and masonry heaters in particular. I'm excited to play a part in bringing what I learned about masonry heater technology to Northern New Mexico," said Bailey.
In Las Vegas, Bailey joined masons from Alaska, Washington State, Indiana, British Columbia, and Colorado. MHA Executive Director Dick Smith, from Arizona, also attended. "What struck me most about all the guys in our group was their humility," said Bailey.
"These guys are some of the best in the country at what they do, but there was no ego whatsoever. Everyone helped do the most menial tasks, like mixing mortar and carrying bricks, and the master masons were willing and eager to share their knowledge with me and whoever stopped by to visit our booth."
Bailey's interest in masonry heaters grew when he was hired to fix the famous Austrian "tile oven" at the Bavarian Lodge, in Taos Ski Valley.
"I joined the MHA to get access to materials and expertise that enabled me to solve the problems with the masonry heater at the Bavarian." Rare in the U.S., masonry heaters are common in Northern Europe. Many experts say they are the most efficient woodburning heater appliances in the world. Mark Twain, while visiting
Europe, wrote, "One firing is enough for the day; the cost is next to nothing; the heat produced
is the same all day, instead of too hot and too cold by turns…"