By Justin Bailey
One thing we strive for at Bailey's is constant improvement.  That's why I travelled to Richmond, Indiana to receive factory training in the Heat Shield chimney repair system.
Heat Shield is a nondestructive way to repair and reline chimneys from the inside out.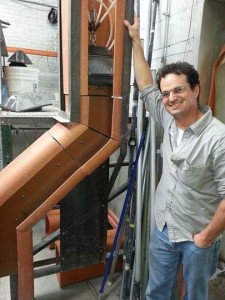 A company called Saver Systems has developed this amazing technology, and I am proud that Bailey's is the only company in New Mexico that is authorized to utilize this solution to the problem of cracked, damaged flue tiles inside chimneys.
I got to know most of the top professionals in the industry at the Heat Shield Summit, and was able to exchange lots of useful information.
After four days in Richmond, I travelled to Chicago, where I spent three days with Lindemann Chimney Co, the number 1 chimney service company in the U.S.  The first day I spent in their offices and warehouse, and the the next day I rode around with one of their chimney sweeps in Chicago.
Exchanging best practices with the best in the business is a way that I can be sure that here at Bailey's we are constantly improving.  Continued education and investments in knowledge is an important part of the mix for Bailey's.
That's one of the reasons why we are New Mexico's premier chimney service company.