Did you know that fire extinguishers expire after 12 years? We carry fire extinguishers in our trucks and our shops because a lot of people do not have them, or the ones they have are expired. We sell them at our cost, as a service to the community. At Bailey's, chimney cleanings/inspections come with a free fire extinguisher check.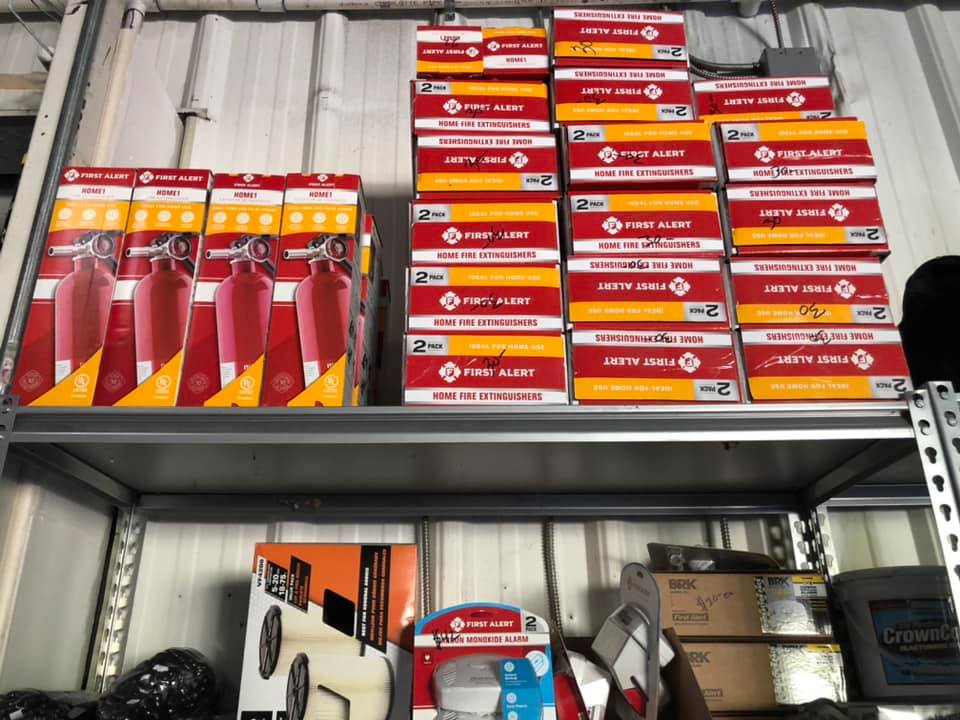 Pat Rael, on the left in the photo below, started at Bailey's in 2016 as an office assistant. He is now our highest rated, most productive field technician. He recently earned a Bachelor's degree, graduating summa cum laude. He completed his studies while raising three kids, coaching some of them in Little League all stars. He is also a founder at Prodigy Church in Taos, where he serves as Pastor. He and his lovely wife Menesha (she took this photo) have become expert nutritionists and health experts in recent years. Before Covid, the whole family enjoyed regular jujitsu sessions that they would take part in all together as a family unit.
To Pat's right is Jared Padilla, one of our newer hires. Jared does a great job as a helper and we are glad to have him on our team.
Pat and Jared are pictured in front of one of the three 4x4 pickups in our fleet that enable us to get to all of our jobs regardless of weather conditions.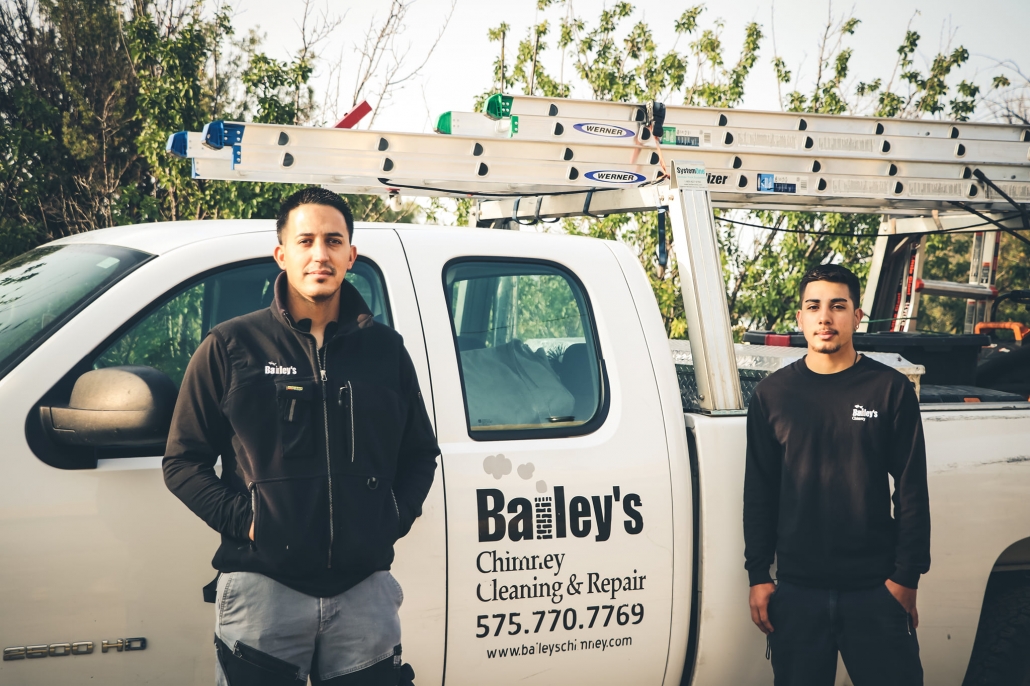 [av_section min_height='' min_height_px='500px' padding='small' shadow='no-border-styling' bottom_border='no-border-styling' id='' color='main_color' custom_bg='#e0e0e0' src='' attachment='' attachment_size='' attach='scroll' position='top left' repeat='no-repeat' video='' video_ratio='16:9' overlay_opacity='0.5' overlay_color='' overlay_pattern='' overlay_custom_pattern='' av_uid='av-7hkkl']
[av_two_third first min_height='' vertical_alignment='' space='' custom_margin='' margin='0px' padding='0px' border='' border_color='' radius='0px' background_color='' src='' background_position='top left' background_repeat='no-repeat' animation='' mobile_display='' av_uid='av-6mpdt']
[av_textblock size='' font_color='' color='' av-medium-font-size='' av-small-font-size='' av-mini-font-size='' av_uid='av-6cf0h' id='' custom_class='' admin_preview_bg='']
I met one of my heroes today, the founder of Copperfield Chimney Supply, one of the great entrepreneurs of the 20th Century, and the creator of the culture of honor that exists among certain chimney professionals today, the most influential person in the history of the American Chimney industry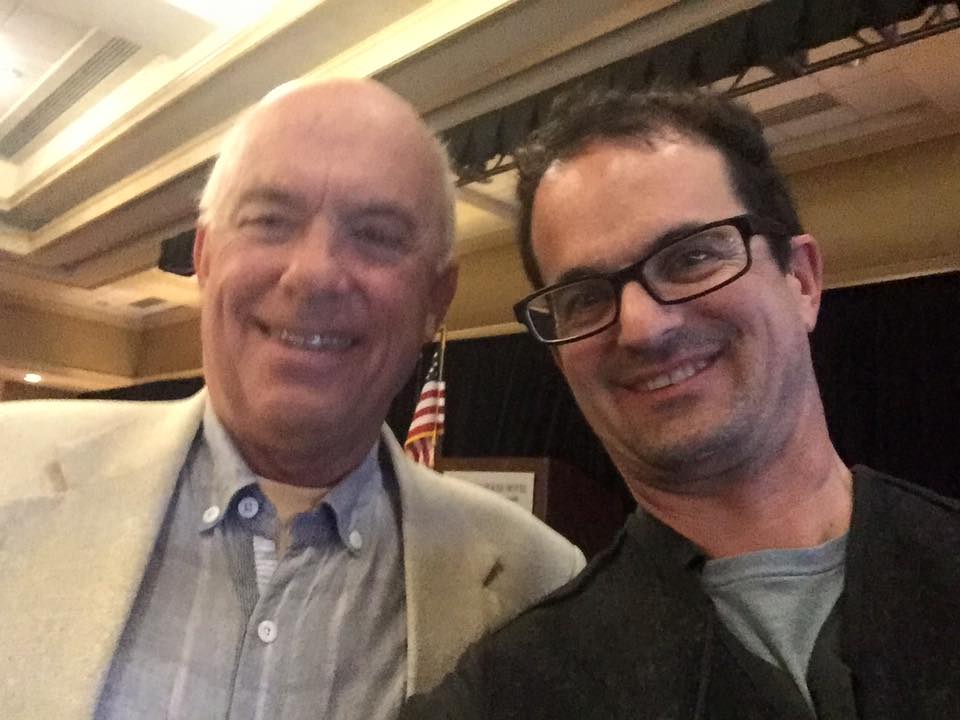 [/av_textblock]
[/av_two_third][av_one_third min_height='' vertical_alignment='' space='' custom_margin='' margin='0px' padding='0px' border='' border_color='' radius='0px' background_color='' src='' background_position='top left' background_repeat='no-repeat' animation='' mobile_display='' av_uid='av-6mpdt']
[av_textblock size='' font_color='' color='' av-medium-font-size='' av-small-font-size='' av-mini-font-size='' av_uid='av-kb1e16sa' id='' custom_class='' admin_preview_bg='']
Santa Fe 505-988-2771 / Taos 575-770-7769
Mailing Address
1470 Paseo Del Pueblo Norte (Unit #2)
El Prado, NM 87529
baileyschimney@gmail.com
If we don't pick up right away, send a text for the quickest response. We do our best to answer the phone when it rings, but if we can't pick up we check our voicemail at least once a day.
Los Alamos customers, please call the Santa Fe office.
[/av_textblock]
[av_sidebar widget_area='Sidebar Blog' av_uid='av-3ap078']
[/av_one_third][/av_section]
Justin Bailey recently built this masonry heater in Tesuque, NM. Bailey is one of the only contractors in The Southwest that offers design/build services for this type of fireplace, sometimes called a masonry stove.
Bailey, owner of Baileys Chimney, LLC, is New Mexico's only member of the Masonry Heater Association, an international organization. He attends the MHA annual meeting every year in Wildacres, A retreat center on top of a mountain near the Blue Ridge Parkway. The annual meeting is a festive, educational event that lasts for one week. 120 Masonry Heater builders, designers and enthusiasts from a dozen countries gather to build heaters, share knowledge and expertise, and test new Heater designs.
Masonry heaters channel the flue gasses through passageways in the core of the heater so the mass absorbs the heat. One fire a day In this heater, and the house will stay warm 24/7. When the flue gasses leave the fire chamber they are over 1500 degrees, and when they leave the heater they are only 300 degrees F. All that heat remains trapped in the heater, which provides radiant heat to the room over time.
The radiation waves from a masonry surface are longer than radiation waves from a metal surface. The long radiation waves heat up all the mass in the room, rather than heating the air.
The warmth from a masonry heater tends to put people into a meditative, peaceful state. People say it "warms your bones."
Masonry heaters are the most efficient way to heat with wood, if you measure the percentage of the energy in the fuel that gets converted to warmth in the room.
If you are interested in a custom masonry heater for your home, give Bailey a call.
As the winter season heads our way we are ready to get the fires burning again. Here are some great steps to take and things to remember:
Starting That First Fire Of The Season? Is Smoke In Your Face?
Baileys Chimney, LLC. is a certified Chimney Sweep company. Call us today Santa Fe 505-988-2771 / Taos 575-770-7769


After Market Parts For Listed Appliances Referenced in NFPA 211 Panel
Panel of Experts: Michael Segerstrom, Eric Adair, Jim Brewer, Randy Brooks, Eugene Laflame
Moderated by Ashley Eldridge, director of education for CSIA
by Justin Bailey
THE PROBLEM
Every American chimney sweep comes across factory built fireplaces. We call them 'prefabs,' or 'zero clearance,' or 'disposable' fireplaces. We find them in condos, apartments, and houses all over the country. They are cheaply built fireplaces that sit on plywood decks with tubular sheet metal chimneys surrounded by combustible wood frame chases. The air cooled, snaptogether sections of chimney pipes sometimes come disconnected, leaving breaches between sections of tubular sheet metal where sparks and smoke can escape the inner wall of the chimney. Near coastlines, the galvanized chimneys corrode in the salt air, showing rusty holes that whistle in the ocean breeze. Refractory panels in the fireplaces eventually crack, break, and crumble. The fireplace grates burn out and disappear, the chimney caps blow off in the wind, the damper handles come loose, fall off and get lost.
Meanwhile, chimney sweeps try to help their customers cope with maintenance and repairs of these prefab fireplaces. It's not an easy task, because many of the existing prefab fireplace models are no longer manufactured, and there is a lack of support from the manufacturers when it comes to making parts for fireplaces that are no longer on the market.
It's common practice in the industry for a sweep to replace worn out parts with "aftermarket parts" that were not necessarily tested in the Underwriter's Laboratory as a part of the original prefab fireplace system. Many aftermarket parts are readily available from chimney suppliers.
Meanwhile, proposed changes to the National Fire Protection Agency Standard for wood burning appliances (NFPA 211 code) will further restrict a sweep from installing aftermarket replacement parts in prefab fireplaces.
That's why the Chimney Safety Institute of America (CSIA) contracted with Intertek labs to conduct testing on aftermarket parts. The CSIA also produced a treatise (known in the industry as a white paper) on the topic, written by professional engineer Eric Adair.
THE ASSEMBLY
A standing room only crowd of pretty much everyone who is anyone in the chimney industry sweeps, sales reps, manufacturers, distributors, consultants packed into the Commonwealth Ballroom at the Marriott Convention Center in Lancaster, Pennsylvania, on Thursday Feb. 19, 2015. There were about 700 people attending, an excited hum in the ballroom, an air of expectation. NCSG staff and volunteers brought dozens more chairs in to seat the overflowing crowd.
A panel of experts had assembled to discuss the proposed changes to NFPA 211, and the effect of those changes on the chimney industry. Ashley Elridge, director of education for the CSIA, served as facilitator for the discussion. A longstanding expert, published author, and developer of educational curricula for the CSIA, Elridge is one of a handful of people who could effectively and impartially serve as moderator for a discussion on such a hot button topic.
Elridge opened the proceedings by welcoming and thanking the panelists and audience members. After detailing the qualifications of each panelist, Elridge said, "This is an important subject that we are all interested in. I expect everyone to be civil, and I won't allow any personal attacks." The crowd laughed. "I gotta say it," said Elridge. "I gotta say it." Elridge asked the panel if the current edition of NFPA 211 addresses the issue of aftermarket parts in factory built fireplaces.
THE DEBATE
"The code is clear on new installations, but there isn't anything on repairs," said panelist and CSIA board member Michael Segerstrom. Panelist Eric Adair agreed. Adair is a licensed engineer and the author of the recent CSIA white paper published Nov. 12, 2014, titled, "The Use of Aftermarket Components and Their Effects on the Safety and Performance of Factory Built Fireplaces." He quoted NFPA 211:"'Section 11.1.1 …factory built fireplaces shall be installed in accordance with their listing.' With Regard to repair work," Adair added, "that becomes the grey area. In fall back, we go to what it says regarding in accordance with listing."
"I don't know if 'grey area' is the word I would use," responded panelist Russ Dimmit, a patent holder on a certain aftermarket part designed for factory built chimneys, called "the liner adaptor for chimneys," US Patent 6852023 B2, specifically designed to retain the airflow between the inner and outer walls of a factory built chimney that has a new liner. "The aftermarket part is often superior to the original part," Dimmit said.
Panelist Randy Brooks, a member of the NFPA 211 standard committee, according to his LinkedIn profile, mentioned the UL127 (Underwriters Laboratory standard for factory built fireplaces) terms of listing and said that the current NFPA 211 does not allow for inclusion of nonOEM [Original Equipment Manufactured] parts. Brooks several times during the meeting brandished code books and the successful chimney sweeping manual, holding them in the air and actually thumping the books.
Panelist Jim Brewer, meanwhile, agreed with the others about the existing language on installations, but he said if the new proposals pass, "I don't think that's a direction we want to go in. The CSIA did testing and the testing shows there's no [safety] problem there. But will anybody write it down? No they won't, because the attorneys won't let them, they're all practicing good CYA."
As it happened, there was an attorney on the panel. His name was Eugene LaFlamme.
"If you just need to replace a chimney cap and the manufacturer is out of business," LaFlamme said, "if the AHJ [Authority Having Jurisdiction] doesn't sign off on it, you can't use the unlisted part."
Elridge thanked the panelists for their input, "The whole idea is to have some interaction," He said. Then he read off a rapidfire series of other questions the panel could address: What are the major concern or risks when using aftermarket parts? How important is it to maintain the product listing? How are aftermarket parts different from installing gas logs? How is it that some manufacturers will allow vent free logs and others don't allow it? How would you be able to identify or make a determination without the original manufacturers installation instructions?
THE WHITE PAPER AND THE QUANDARY
These questions, many of which went unanswered throughout the meeting, show that the chimney industry is in a quandary when it comes to aftermarket parts in prefab fireplaces.
The Nov. 12 CSIA white paper (available from the CSIA office) addresses these questions in more depth than the panel at the assembly had time to. I spoke with Adair, author of the white paper, by telephone. He said the paper came about because the NCSG asked the CSIA look into aftermarket parts. Stakeholders in the chimney industry were looking for answers.
"If you want a black and white answer, the answer is no." Said Adair. "You can't use the aftermarket parts. The grey area is that we know people are using aftermarket parts every day and we know that can be done safely."
So what is a sweep to do when a fireplace needs a part that isn't supplied by the manufacturer?
The white paper, which begins with a disclaimer saying it doesn't endorse the use of aftermarket parts, has an entire section describing the safest way to install the most common aftermarket components, including inserts, refractory panels, grates, glass doors, liners, termination caps and shrouds. The white paper itself embodies the quandary we face.
When I asked Adair about this, he said the disclaimer was written by the CSIA's lawyers. He said the white paper was commissioned for two main reasons: 1)To educate industry professionals, including sweeps and installers, so that if and when aftermarket parts are installed the work is done in a way that maximizes safety; and 2) To provide an official document from the CSIA that could support the NCSG's comments to the code board.
"What my paper was trying to do," Adair told me, "is to identify what parts we have to
worry about and what parts there is no definite answer about." The white paper addresses perhaps the thorniest issue we chimney sweeps have to deal with. Those of us who are involved in the industry (to such an extent that we attend conferences, maintain CSIA certifications, pay guild dues, peruse Sweeping magazine, and educate ourselves in the developments in our trade) are aware of our position between a rock and a hard place.
The official position of the CSIA, which was last updated in 2008, is quoted in the white paper, on page 4. A summary of it is: The CSIA recommends the use of OEM (Original Equipment Manufactured) parts, but contains a caveat: if aftermarket parts are installed they should be cleared with the AHJ, should perform in the same manner as the original part, and the situation should be disclosed to the homeowner and documentation should be created that shows the homeowner has authorized the aftermarket part installation.
This still doesn't solve the problem for sweeps, because, as Adair told me, "The installers are at the tip of the spear as far as liability goes."
THE REAL WORLD
Cracked refractory panels are a common problem; replacing them is a common solution. Chimney sweeps have been installing wood burning inserts in factory built fireplaces for many years. Some insert manufacturers I've spoken with say this is okay, but the fireplace manufacturers might not agree.
Panelist Jim Brewer pointed out that he has represented the National Chimney Sweeps Guild at code board hearings for 25 years, and he said lot of the listing process has to do with marketing. He didn't articulate how this works specifically, but his statement brought up a lot of questions in this correspondent's mind about how code boards operate.
Adair has for many years been involved with code boards and the creation of safety standards and the UL listing process for new products. His white paper explains the process in detail. He will be attending the next code board meeting at NFPA HQ in Quincy, Mass., March
18th and 19th.
The chimney industry's aim when it comes to the code changes, he said, is to m ake sure that a couple of the proposals, proposed by Randy Brooks, do not end up in the code book. The industry sees the proposals as redundant and overly restraining. NFPA 211, section 11.1.1 already addresses the issue. "I've worked with a lot of codes and standards groups," said Adair, "and one of the things you don't do is say the same thing in multiple places."
THE AUDIENCE
People lined up at both microphones in the audience at the Commonwealth Ballroom to ask questions. A chimney sweep from the audience asked if there was any specific case law in the legal system that pointed to an aftermarket part actually causing a house fire.
Eugene LaFlamme, the lawyer panelist, said that case law varies from state to state. A lot of areas have not adopted NFPA 211 as the legal requirement, he said. LaFlamme said that he wasn't aware of any Supreme Court cases on the topic. He said, "A lot of time an argument [that an unlisted part was installed] will just get thrown in to make a sweep look bad [in court or a deposition.]"
A manufacturer in the audience got his turn at the mic and explained, "We make aftermarket parts and caps. This issue has been dealt with in other industries. It can be done, it has been done." He pointed out that sometimes products installed according with their listing don't work.
None of the panelists had a ready answer to the point about other industries having solved these kind of problems. This issue is addressed to some extent in Adair's white paper, on page 16, but was not thoroughly discussed in the meeting.
Panelist M. Segerstrom pointed out that some aftermarket manufacturers "have gotten their stuff listed. Not for everything, but for recently made stuff. We need to put pressure on these manufacturers to do this."
Panelist Randy Brooks held up a code book and said: "We all know what the word 'shall' means. The limited language has always included that word with regard to these factory built fireplaces. Its up to us to let the customer know that if it [a prefab] has a nonOEM part, it's no longer listed. I always recommend a level II inspection. The language says 'It Shall be listed.'
That's always been the language. Sure, it's easier to sell $500 worth of parts than it is to sell a $6000 replacement. And if you can get approval from the AHJ, then God Bless America." Though this article isn't about the Nov. 12 white paper, I should mention here that the paper says that an AHJ cannot be held liable for damages, and that while AHJ approval of an aftermarket part installation can lessen a sweep's liability, it doesn't necessarily absolve an installer.
Panelist Russ Dimmit seemed to agree with the white paper when he pointed out, "If you put it on there, you own it. You can't have the customer sign anything that eliminates your liability. UL (Underwriters Laboratory) is a for profit corporation. They are gonna cover their assets."
Panelist Jim Brewer said that there aren't a lot of cases where the aftermarket parts were causing fires. "The companies who are making the parts aren't getting sued. That's what they tell you privately. The insurance data and the fire reports don't specify whether the parts are aftermarket or OEM. The NFPA is essentially silent on the subject."
THE FALLOUT
After the meeting, this correspondent held interviews with Randy Brooks and Jim Brewer at the NCSG conference, and with Eric Adair, author of the Nov. 12 white paper, by phone. "Customer communication is the key," Brooks said, sitting with me in an empty booth on the NCSG trade show floor. In the case of a unlisted fireplace grate, he said, it's the sweep's duty to inform the customer that a listed, tested grate is required prior to operation. "I've now warned them. Am I predicting disaster? No. But I don't have the authority to tell them the unlisted grate is acceptable. I don't go into somebody's house and say, 'you're missing your grate so we need to rip your fireplace out and replace it. However, the rules of engagement, IRC (International Residential Code,) NFPA 211, Manufacturers installation manuals and UL 127 collectively forbid the use of unlisted aftermarket parts."
Brooks says the only way he will install an aftermarket part is if the customer signs a hold harmless agreement that includes a warning not to use the fireplace. In the case of a missing cap that needs a replacement, he will put one on because rain coming in is a problem, but he will still require the hold harmless agreement. "If you are going to throw caution to the wind and use your fireplace, then you probably want this cap," Brooks will tell the customer. "You do it at your own peril."
Jim Brewer spoke about what is going on in the real world of chimney sweeps and fireplace owners. "These factory built fireplaces, there's thousands of them in the field," he said. "There's a lot of manufacturers that have gone out of business or don't offer parts. I think we need to find a way to help these people with these fireplaces. It doesn't make sense to tell someone they have to replace their fireplace because they need a new grate or a cap.
"It would be different if we had a lot of info that aftermarket parts are causing fires. The companies who are making the aftermarket parts aren't getting sued because their parts are causing problems; thats what they tell you privately. I would like to see the conversation move to a place where we're talking about how to do repairs responsibly. Have guidelines that make sense. How do you evaluate a cap? The insurance data and the fire reports don't specify whether the parts in the fireplaces [where fires occur] are aftermarket or OEM."
WHAT NEXT?
Chimney sweeps who attended the meeting in the Commonwealth Ballroom walked away with a lot of information, but few answers. The fact remains that we don't know what the new code is going to say.
The March 1819 code board hearings occurred after the deadline for this article.
It seems like the best thing for a chimney sweep to do is to educate him or herself as thoroughly as possible about the issue. Get and study the Nov. 12 white paper. Learn the official CSIA position on the topic. Attend NCSG conferences that will keep you apprised of NFPA code changes. Inform customers about the ins and outs of the issue.
And then, when it comes to whether or not to use an aftermarket part in a factory built fireplace, be sure the decision is based on the most current, complete information available. A sweep is always free to recommend level II or III inspections before doing any repairs. The results of such inspections will provide a technician with more information on which to base a
decision.